One of the wedding stationery trends emerging this year is Watercolor Wedding Invitations. There's something about the texture and the wide variety of designs and colors that has us holding our breath to see where invitations will go next. This hand painted look is a work of art that is both elegant and refreshing.
Floral watercolor wedding invitations are the most popular with intricate and cascading designs in several different shades of the same color.
Here are some watercolor wedding invitation ideas from Wedding Paper Divas and Minted. Most of them are available in several different color options to match your theme. This watercolor wedding stationery also includes matching save the date cards, thank you cards, place cards , menu cards, and programs.
Here are a few of our favorites...

Blooming Watercolor Ecru Wedding Invitation

Watercolor Poppies White Textured Wedding Invitation

Watercolor Tulips White Texture Wedding Invitation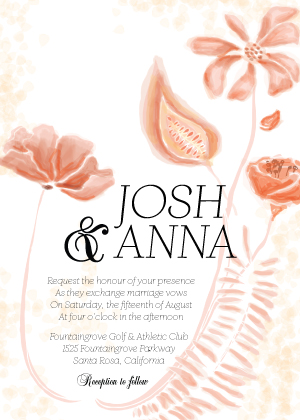 Watercolor Poppies - Wedding Invitation

Rustic Print Ecru Wedding Invitation

Romantic Roses White Textured Wedding Invitation

Sweet Jasmine White Textured Wedding Invitation

Washed Damask White Textured Wedding Invitation

Watercolor Wonder

Color Us Happy Wedding Invitations

Aquarelle Wedding Invitations

Studio Modern Wedding Invitations

Horizon Wedding Invitations

Watercolor and Doilies Wedding Invitations

Sweet Garden Wedding Invitations