Looking for a unique guest book? Fingerprint guestbooks are a trend that isn't going away this year for Louisville weddings. It is is a unique alternative to the traditional guest book seen at weddings. Each guest uses a stamp pad to write their name above or inside the print. It's a fun way to involve your guests and after the wedding, you get a personalized piece of reminder of all your friends and family that shared your special day with you.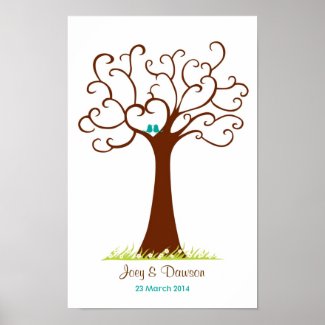 Fingerprint Tree Wedding - Heartastic (White)
by
poptasticbride
Look at more
museum posters
on zazzle.com
The majority of these guest books have a tree drawn and then your guest's fingerprints are used as leaves with a signature underneath. There are several other versions you can consider, like a getaway car being picked up by balloons, etc.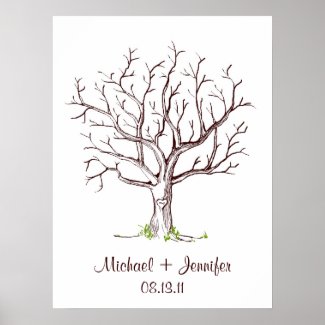 Wedding Fingerprint Tree Guestbook
by
HollaBeck
View other
Fingerprint Posters
Some packages include the fingerprint tree with your names and wedding date. There are many options that are available for purchase. Each designer has a unique approach to their creation so make sure you do your research and find one that's perfect for you! And make sure you choose inks that coordinate with your wedding colors.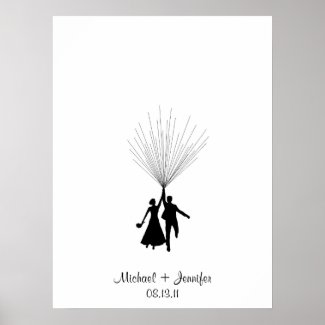 Wedding Fingerprint Balloon Guestbook
by
HollaBeck
Make your own poster online
at zazzle.com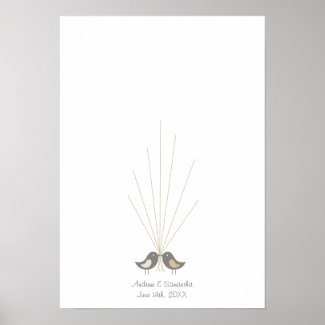 Fingerprint Wedding Guestbook | Love Birds
by
dulceevents
Get the best
poster printing
on zazzle.
Just Keep in Mind:
Leave instructions so guests will know what they are being asked to do.

Ink can be messy, so make sure you buy high quality ink that are fast drying and fade resistant

Make sure you include a black felt tip pen next to the tree so guests can sign their names or initials by their fingerprints
Fingerprint Tree Wedding Orange (Vintage)
by
poptasticbride
Create a one-of-a-kind
custom poster print
at Zazzle.